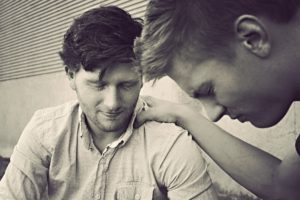 It started out as an experiment by TURNING POINT to simply help our community face crisis and chaos in life, and has turned into a local phenomenon! We call it Pray it Forward. People from all walks of life are in need of prayer.

From sick family members and friends, to job and career needs, it's refreshing to know people still believe in the incredible power of prayer. What we find astounding is how impactful this simple phrase is, "How can we pray for you?"
From restaurant servers, to store owners and even doctors and nurses, we have been praying for God to intervene on behalf of countless situations.
We define Pray it Forward as follows: Any opportunity to interject life-changing prayer into a situation in which God can perform the miraculous.
If you find yourself in need of the life-changing power of God's love and provision in your situation we would be honored to pray for you. Feel free to leave prayer requests over our HOTLINE at (877) WEPRAY2 or (877) 937-7292, or enter a prayer request via our dedicated website www.weprayitforward.net
All we ask in return is when God answers your prayer you give Him the praise and credit for it, and please leave a testimonial on our website about what God has done for you through the power of prayer.
When life starts to go backward, it's time to Pray it Forward!

God bless you with His Favor and Love – The Pray it Forward Team